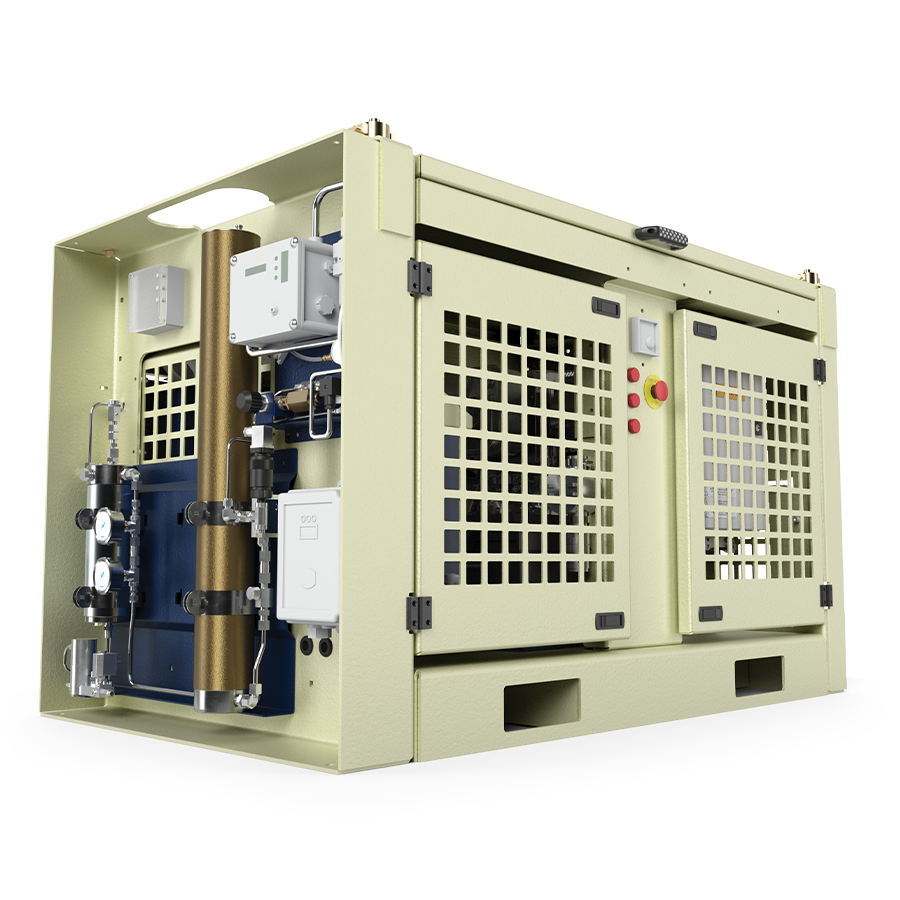 4-STAGE HIGH-PRESSURE BREATHING AIR COMPRESSORS
The BAUER O320® series of compressors are your solution for onshore and offshore applications when an efficient compressor is required. Specialized for the budget-consciousness leaders in the oil and gas market. The BAUER O320® is built with corrosion-resistant components, which are assembled and tubed with stainless steel fasteners and fittings, making it an ideal choice when a robust compressor is required for the extremes of the drilling environment.
PIPELINE BLOWDOWN AND CROSS-COMPRESSION SOLUTION
The BAUER GRU® XL Mobile Compressor System is a trailer-mounted, plug-and-play system that minimizes set-up time. It is capable of taking residual pipeline pressure down to 0 PSIG. The unit's variable speed drive allows the compressor to adapt to the required flow and outlet pressure, while feeding the boosted compressor at optimal pressure to maintain maximum flow.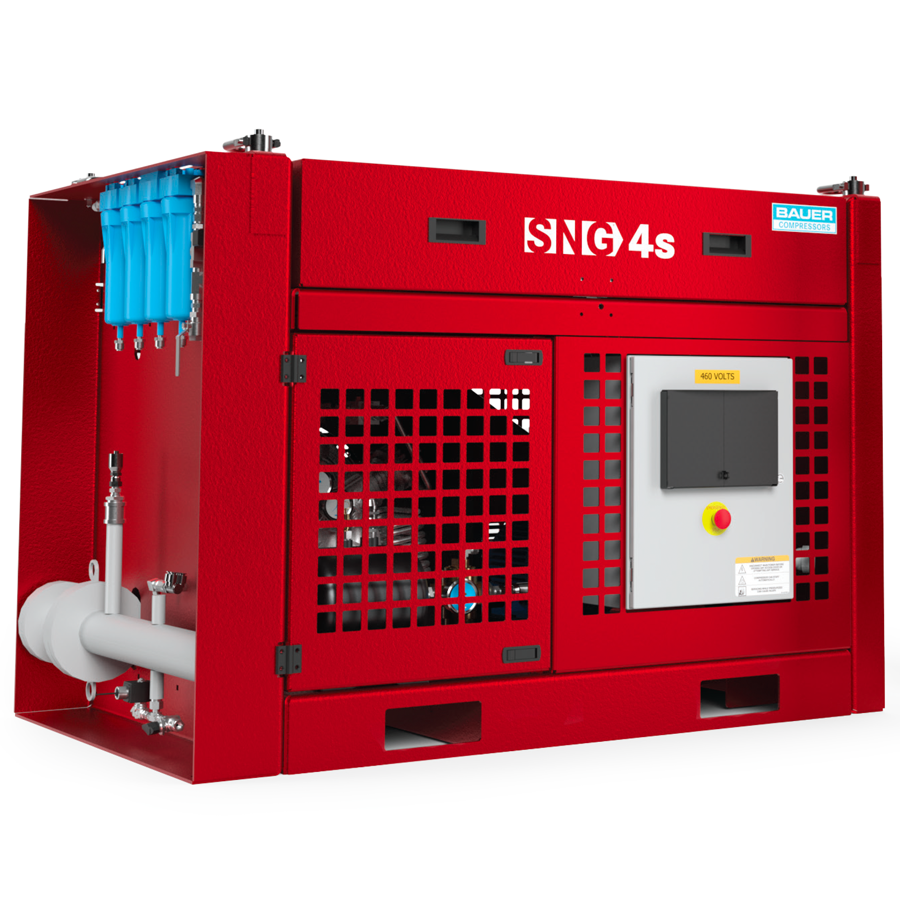 STATIONARY NITROGEN GENERATION SYSTEM
Why buy nitrogen when you can make your own? The BAUER SNG® 4S generates nitrogen on-site to eliminate the cost and hazards of transporting bulk or cryogenic tanks. It is engineered for reliable operations in offshore and onshore environments. The SNG® 4S provides superior functionality and seamless conversion of hydraulic accumulator charging systems from air to nitrogen service for motion compensation, riser tensioning, blowout prevention, and blanketing/inerting, all in a compact design.
FUGITIVE GAS CAPTURE AND RECOMPRESSION SYSTEM
The BAUER FG™ Series Fugitive Gas Solution operates independently of centrifugal pipeline compressors and captures fugitive methane gas leaking from dry gas seals, as well as from system blow-downs during maintenance and repair cycles. After capturing and compressing the fugitive gas, the BAUER FG™ Series re-compresses and re-injects the gas back into the pipeline so no product is wasted and emissions are minimized. The unit can be monitored and operated remotely using the BAUER Connect® Remote IOT with the same ease as using the unit's HMI touchscreen.
APP AND INTERNET IoT SOLUTION
BAUER CONNECT® is a solution that allows BAUER customers to remotely monitor and control the performance of their entire BAUER system through any wireless mobile device or computer; anytime, anywhere. BAUER CONNECT® allows customers to increase efficiency and productivity, save time, do more with fewer resources, enjoy lower operational costs, and have total flexibility with a solution tailored specifically for the end-user.
MEDIUM-PRESSURE COMPRESSORS FOR CONTINUOUS HEAVY-DUTY APPLICATIONS
A compact design makes the BMP™ Series ideal for operations where space is at a premium. It has a low center of gravity and the ability to operate at inclinations up to 30°, which ensures its ability to operate onbard vessels. The BMP™ Series is available in a wide range from 20 – 175 HP (15 – 128 kW) with flow rates from 27 – 247 SCFM (46 – 420 m3/hr). 2-stage units are designed for final pressures up to 580 PSIG (40 bar), and 3-stage units are designed for for final pressures up to 1450 PSIG (100 bar).