CNG/RNG COMPRESSION SOLUTIONS
The BAUER CNG Line ranges from simple compression systems, all the way to complete systems with drying, storage, priority, and sequencing. Our customers have the option to choose from a number of pre-engineered systems, designed for maximum value and shorter lead times, with a wide performance range to accommodate any fleet size. For special customer needs, we also offer customized compressed natural gas (CNG) and renewable natural gas (RNG) solutions.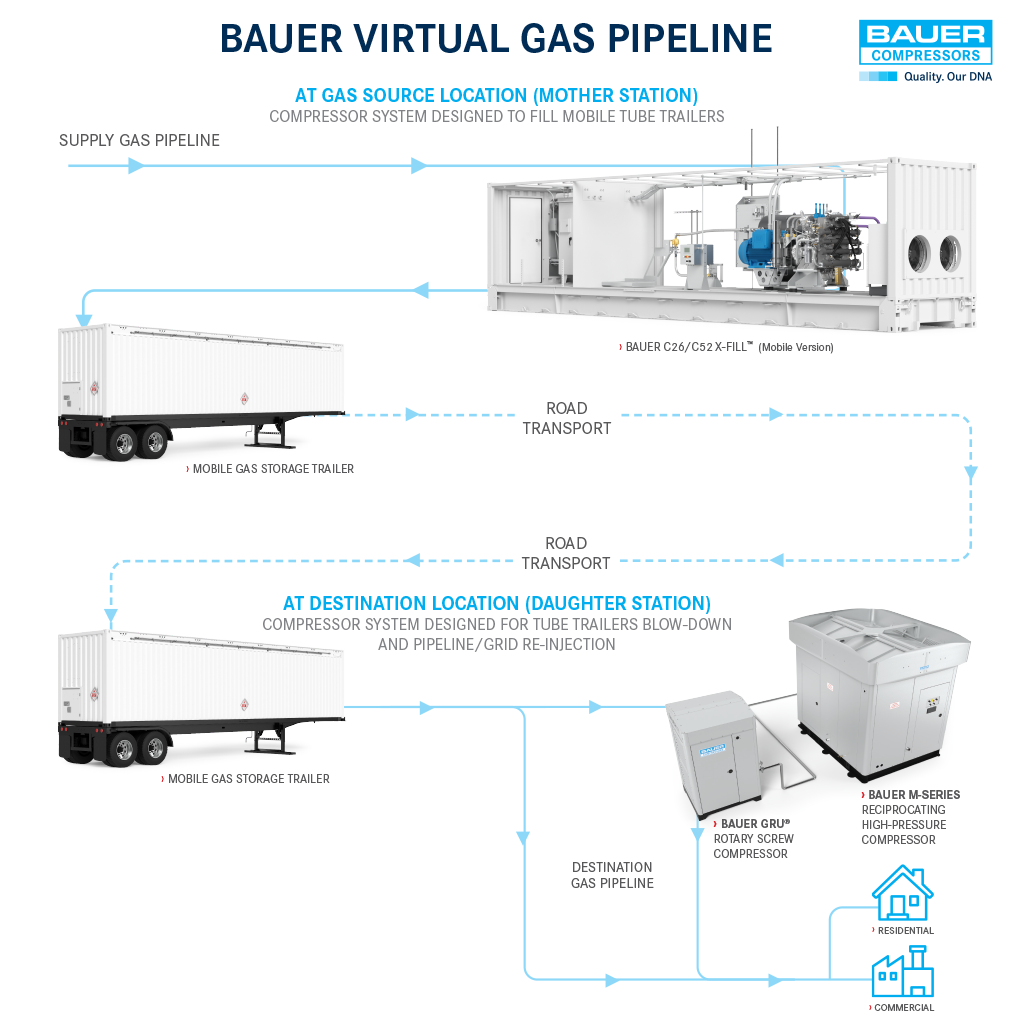 BRINGING CNG FROM THE SOURCE TO THE END USER VIA VIRTUAL GAS PIPELINE
The BAUER MD™ SERIES is the ideal solution for bringing compressed natural gas to pipelines or industrial plant end users from remote CNG or RNG facilities where CNG pipeline infrastructure does not currently exist. By combining rotary screw and reciprocating compressor technology, BAUER can extend the operating range of the compressor system to accomodate extremely high to low inlet pressures, to completely discharge any residual gas from the tube trailer. This maximizes the efficiency of the virtual pipeline system and eliminates mobile trailers returning to the utilities' station with residual gas. RNG/CNG is transported from source to destination, to allow for fuel usage later.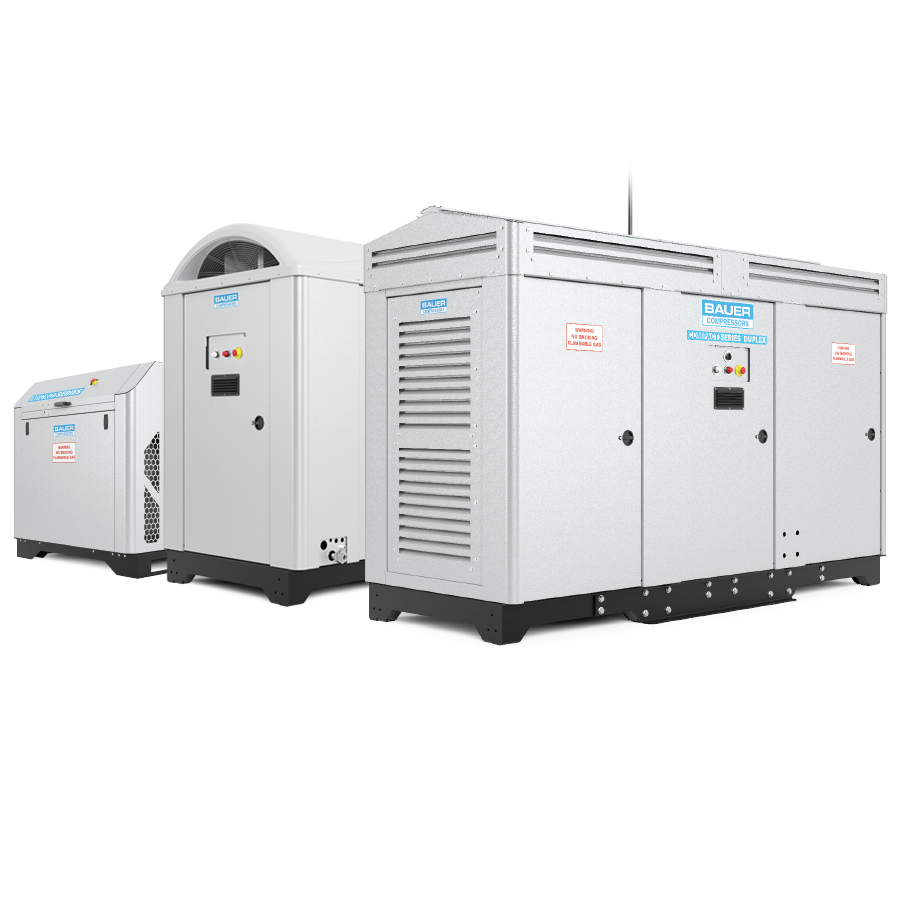 HYDROGEN COMPRESSION SOLUTIONS
Hydrogen is one of the primary energy sources being considered as a renewable, sustainable, and clean alternative fuel. It can be used in gas, liquid, and fuel cell form, and produces no carbon emissions when consumed. But hydrogen's small size and low density make it incredibly prone to leaking, and its reputation for reacting with oxygen is well known. BAUER's purpose-built H-Series compressors are designed to the tightest tolerances to prevent leaking, and manufactured with quality materials designed to resist hydrogen embrittlement, a condition that lowers the ductility of materials.
BIOGAS UPGRADING FACILITY TOUR
BIOGAS FEED COMPRESSION, PIPELINE INJECTION COMPRESSION, AND VIRTUAL PIPELINE/CNG STATION COMPRESSION
In biogas upgrading facilities, raw biogas from the anaerobic digestion of organic matter typically contains 50- 65% methane in addition to other gases, volatile organic compounds, and moisture. To separate pipeline quality renewable natural gas, the raw biogas is run through activated carbon, a condensate dryer, and then compressed by a BAUER GRU® rotary screw compressor to 240 PSIG (17 bar), the pressure required for membrane filtration, which produces 95-97% pure methane. At this point, it can be compressed into high-colume gas tanks by BAUER CNG compressors for transport, storage, or use in clean energy CNG vehicle fueling, or it can be compressed and injected into natural gas pipelines. Biogas plant operators can also use biomethane to generate electricity to power their facilities and/or feed the electrical grid.
BIOGAS UPGRADING COMPRESSORS FOR PRODUCING PIPELINE QUALITY GAS
BIOMETHANE INJECTION INTO THE PIPELINE GRID
The BAUER GRU® MB5 Gas Booster utilizes rotary screw compressor technology and has been specifically designed for biomethane injection into the pipeline grid for applications where higher pressures (up to 1100 PSIG) are required. The BAUER GRU® MB5 rotary screw booster is also suitable for large gas turbine power generators that require higher gas inlet injection pressures. All BAUER GRU® Booster units are equipped with variable frequency speed control which allows the compressor to adjust to the incoming flow of gas.