Top Uses for BAUER Industrial Compressors
BAUER COMPRESSORS offers essential solutions for a wide array of industries that rely on high-pressure gas and industrial air compression. These compressors play a crucial role in various industries, from manufacturing, energy, aerospace, defense, maritime and many others. Keep reading to learn the most common uses for our industrial compressors.
Energy Industry Adjacent Applications
BAUER can provide a complete turnkey system for almost any demand, and we offer a number of modular systems that can plug in to existing operations. For special requirements, BAUER can modify a standard package or design a custom package specific to the customer's needs. Our lineup has models capable of an impressive range of pressures from 350 – 7000 psi. Air-cooled, continuous-duty rated systems are available from 1.5 – 150 HP, and water-cooled, continuous-duty systems from 40 – 400 HP. 
Our compressors come equipped for the BAUER CONNECT® service, so you can monitor and operate your compressor remotely, receive notifications if your system is operating outside of normal parameters, and more.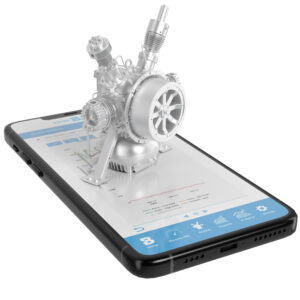 Quality is the guiding principle of BAUER, and we are committed to producing the best equipment in on the market with unparalleled lifecycle support and reliability to give our customers the lowest lifetime cost of ownership. BAUER is committed to finding ways to implement our technology for a greener future.
To learn more about how our compression solutions can benefit your operations, email our team of experts at: [email protected]
You can also visit our website at bauercomp.com, where you can navigate to all of our solutions.